This short guide explains how your business can use Motion.io's File Request Tool to eliminate unnecessary busy work and get the documents, files, or content you need from clients without having to follow up with them. 
Step 1: Create a new file request
After logging in to Motion.io, click the "create request" button to bring up the file request modal. Then, in the modal, give the request a name.
If you'd like, you can also choose to provide additional instructions to your client (for example, a list of files you need and/or what format they should be in), which will automatically be included in any notification and reminder emails Motion.io sends to the client.
Once you enter a name for the request and message for the recipient, the final step before sending the request is to enter the client's name, email, and a due date for when they must provide the files you are requesting.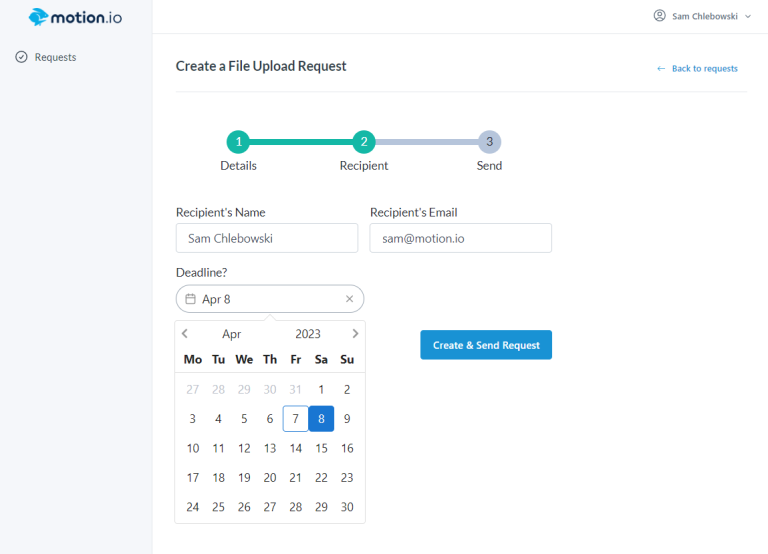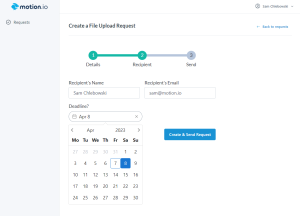 After entering the recipient's information, on the next screen, click "create & send request." As soon you do,  Motion.io will notify the client of the file request and send them automatic reminders until they complete it — without any additional setup on your end.
Step 2: Client uploads files 
Motion.io uses magic link technology, so all your client has to do is click the "get started" button in the email they receive. Clients you send file requests to are auto-authenticated into Motion.io, meaning you never need to worry about them having to create an account or remember a password.
Clients then simply drag and drop files into the upload modal and can provide files from their computer, a link, or a connected Google Drive account. If your client is completing a file request on their mobile device, they can also upload from their phone's photo or file library.
Step 3: Review the request & download files
You'll be automatically notified via email once the client uploads files. From there, you can log in to Motion.io to download files the client provided, write a comment to the client, respond to existing comments, or mark the request as complete.
Motion.io slides into your existing process and project management software, helping you deliver exceptional client experiences while streamlining project completion.