At the web design agency I helped scale from 250 clients to over 5,000 clients just five years later, I learned firsthand the importance of having scalable systems to streamline client onboarding, communication, and project management.
Our agency was a 'Design as a Service' business, where we charged $59/month for a website and unlimited support. Given the low monthly fee, our ability to efficiently get the information needed from each client to build a bespoke website they loved – and then deliver top-tier support afterward – was instrumental to our success in scaling.
But unlike today, the client portal software options back then were limited. Because of this, we had to create our own system for client onboarding, communication, and support by hacking together various tools that each served a specific purpose.
Eventually, we built our own client portal for onboarding, and many of the lessons we learned inform our decisions today at Motion.io. This provided me with tremendous insight into the individual functionality and features needed to make an excellent client portal software.
In this article, I'll cover what I believe to be the five best client portal software options available on the market right now – explaining where each one shines and where it has limitations to help you choose the option for your business.
What Should You Look for in Client Portal Software?
You should consider various things when choosing the best client portal software for your business. Here's what I think is the most important:
Automated Follow-ups: Having to send manual follow-up emails to clients about the information they need to provide or tasks they need to complete prevents your team from focusing on higher-value work. The best client portal software includes options for automatically reminding clients about tasks they need to complete.
Integrations: Integrations are crucial as they allow your client portal software to connect with other business tools and software seamlessly.
White Label Ability: White labeling will allow you to customize your portal's appearance with your company's logo and design to create a professional and cohesive client experience.
Client Accessibility: If your client portals aren't easy to access, clients are far less likely to use them. Things like loginless access (e.g. magic links) will help ensure your clients don't fall back on using email to communicate and send information to you.
Client Tasks: Client task management is essential for getting what you need from clients. The best client portal software options allow you to assign, track, and easily communicate with clients about tasks you need them to complete.
Client Forms: The ability to create and manage client forms is crucial for collecting essential information and streamlining your onboarding process.
Flexibility: Every business is different, and because of this, the client software you choose must be flexible enough to accommodate your unique processes.
#1 Motion.io
Assign tasks, share files, and embed your favorite apps in fully customizable & loginless portals you and your clients will love.
Motion.io's client portal software helps businesses get what they need from clients with minimal effort so their teams can focus on higher-value work to help them grow and scale.
Using Motion.io, you can quickly create tasks that clients can complete directly in their portals. Motion.io automatically follows up until the tasks assigned to them are complete.
There are other high-value features, too, including: a client messaging area, a help desk, and an intuitive file management system to streamline client communication and collaboration at every step.
With its endless integrations, Motion.io allows businesses to connect all their existing services into a single hub for their clients, combining their favorite services for payments, scheduling, signatures, and more in one place.
Where it shines:
Client Tasks: Create and assign tasks that automatically remind clients what they need to do or submit in their portals based on the due date and email cadence you set.
Design Feedback & Approval: Have clients mark "approved" or "changes requested" on images you upload. When changes are requested, clients can pin comments on files you've uploaded to explain the changes they have in mind.
Automated Follow-Ups: When there are action items your clients need to complete, Motion.io does the heavy lifting of reminding them.
Dedicated Help Desk: Provide a Help Desk directly in your Motion.io client portals where clients can submit support tickets, upload files, and communicate with your team. Assign tickets to the team member best equipped to handle them and track the status of each ticket.
Endless Integrations: Connect the apps, tools, and software you already use to Motion.io and add them to individual tasks that are "hidden" once a task has been completed – or to 'portal pages' clients will see each time they access their portal.
Loginless Access: Simple and secure, clients access their portals and assigned tasks by clicking a magic link sent to their email – no account or login is required.
Where it has limitations:
3rd-Party Automations: While you can connect virtually any 3rd party software to Motion.io, the ability to automatically create/update a task or portal in Motion.io when something happens in external software (or vice versa) is currently limited. However, this will all change when we release our Zapier integration in a few short weeks.
Form Signatures: Currently, you have to connect a separate tool to have clients complete contracts or sign documents in their portals.
Motion.io pricing:
$24/mo per internal team member

Unlimited client portals
Unlimited client invites
Unlimited file storage
Click here to start your free trial of Motion.io.
#2 Ahsuite
Via Ahsuite
One of the newest client portal software options on this list, Ahsuite was launched in 2021 with the mission of providing clean & simple portals that simplify the process of communicating with clients and giving them access to everything they'll need in one place.
Enabling you to create & assign client tasks, embed virtually any other tool you use with clients, and communicate with clients directly in their portals, Ahsuite's features have the most overlap with Motion.io compared to any other and make it a more than worthy candidate for the #2 spot on this list.
While Ahsuite's flexibility to customize client portals to fit a wide range of client projects and processes rivals Motion.io, I've found the setup process more complex and time-consuming. While I think Ahsuite can be an excellent fit for many small- to medium-sized businesses out there, it does have a few limitations to be aware of when choosing the right client portal software for your business.
Where it shines:
Client Tasks: Ahsuite is the only client portal software on this list other than Motion.io that allows you to assign tasks for clients to complete in their portal. However, Ahsuite's client tasks have a few limitations we'll cover in the next section.
Integrations: With Ahsuite, you can embed any of the 3rd party apps you're using directly in your client portals.
Client Messaging: Ahsuite's dedicated conversation areas allow clients to communicate with you directly in their portals and automatically logs responses if clients respond via email.
Where it has limitations:
Loginless Access: Similar to Motion.io, using Ahsuite, you can generate links that allow clients to access their portals without logging in. However, clients can only use these links to access their portals and not complete tasks – meaning that clients cannot click a link in their email and immediately start completing a task as they can with Motion.io.
Task Reminders: While Ahsuite sends notification emails when you first assign a task, it doesn't automatically remind clients to complete tasks assigned to them. Because of this, you need to either rely on clients logging on or send a separate message to ensure clients complete the tasks you assign.
Help Desk: Task creation goes both ways in Ahsuite, meaning you can assign tasks to clients, and clients can assign tasks to your team. While some businesses may be able to provide ongoing support using this functionality, others may find it more beneficial to have a separate Help Desk that keeps support requests from getting mixed with other client conversations.
Ahsuite pricing:
Professional – $29/month
Agency – $69/month
#3 Copilot
Via Copilot
Copilot, #3 on our list of best client portal software options in 2023, places an emphasis on customizability and security.
Copilot can be integrated with several project management tools – making it an excellent choice for teams with well-established internal processes that would otherwise prevent them from switching to a new way of managing client projects.
Co-pilot is a perfect fit for larger teams and businesses that handle secure information. Still, smaller service-based and creative businesses may find the setup process overly complex for their needs and have trouble justifying Copilot's slightly larger price tag.
Where it shines:
Team Member Roles: Copilot's robust options for managing internal team member roles and controlling what they can or cannot see makes it a good fit for teams with multiple departments.
Secure document sharing: Depending on the package you choose, Copilot can store HIPAA-compliant information and other types of secure documents with legally mandated security protocols in place.
Customization: Copilot's No-Code Portal Builder provides a powerful solution to customize the layout of each client portal.
Integrations: The ability to embed virtually any 3rd-party service into your Copilot portals is a huge benefit for teams wanting to provide a central hub for all the tools they use with clients.
Where it has limitations:
Task Management: While Co-pilot can be integrated with project management tools, it has no built-in option for assigning tasks to clients and reminding them of tasks they need to complete.
Help Desk: Co-pilot's Help Desk feature is a Wiki. It can only be used to host support-related articles and documents, lacking the ability for clients to submit support requests and for your team to manage them through a ticketing system.
Client Reminders: Because it lacks a built-in email automation system, you'll need to use a separate tool like Zapier or connect 3rd-party apps through their API to automate client reminders.
Setup: While the ability to customize Copilot client portals is virtually unlimited, it can come at a cost. Smaller teams without a dedicated IT department may find Copilot's setup process too complex and time-consuming.
Copilot pricing:
Starter – $40/month
Professional – $89/month
Advanced – $139/month
Supersonic – $1500/month
#4 Moxo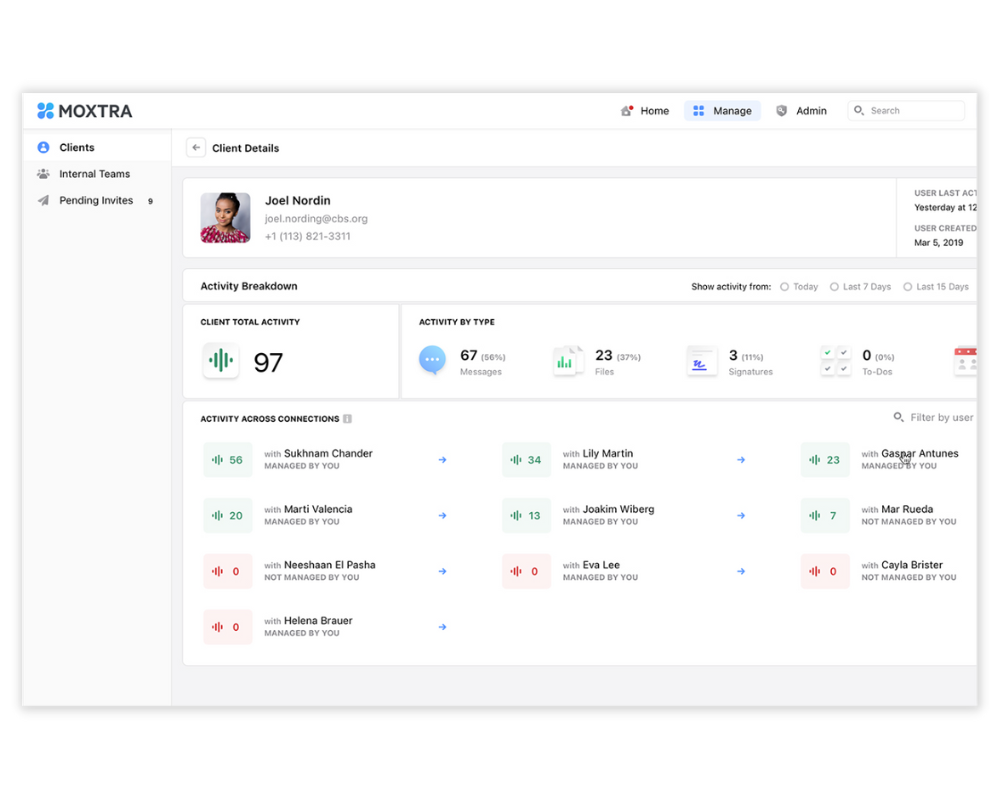 Via Moxo
Founded in 2012, Moxo is a client portal software solution focused on providing businesses like financial services, legal firms, and healthcare the tools they need for effective client relationship management. Key features of Moxo typically include document sharing and management, secure messaging, appointment scheduling, task tracking, and collaboration.
It's important to point out that because of Moxo's focus on helping enterprise-level businesses digitize their client information and document collection (often called "digital transformation"), it may not be the best fit for smaller businesses already accustomed to using software tools to onboard and communicate with clients.
Where it shines:
Automation Workflows: Moxo's built-in workflow builder provides a powerful option to create workflows that automatically follow up with clients and inform them of what information you need them to provide.
Integrations: With Moxo, you can embed any of the 3rd party apps you're using directly in your Moxo portals.
Customizability: Nearly every aspect of Moxo client portals can be customized to a business's unique branding or process.
Where it has limitations:
Task Management: Moxo's tasks and task lists are for internal use only and not designed for client-facing tasks.
Industry focus: Because of Moxo's focus on helping businesses like financial services, legal firms, and healthcare providers digitize client information and document collection, smaller businesses already accustomed to using software tools to onboard and communicate with clients may be unable to justify the cost and setup required.
Moxo pricing:
*Request a quote on Moxo's website to view pricing.
#5 Dubsado
Via Studio Gently
Dubsado is a CRM and client portal software that caters to small businesses and freelancers, particularly those in service-oriented industries such as creative agencies, photographers, consultants, and other client-centric professionals. Dubsado includes powerful features to help streamline the process of working with clients, like an online appointment scheduler, robust form builder/form templates, contracts, proposals, and payments.
Dubsado differs from the first four software options on this list in that their client portals are a feature of the overall product instead of the foundation.
Because of this, I recommend businesses using Dubsado integrate it with separate client software that allows clients to complete tasks, share information/files, submit support tickets, and communicate.
Where it shines:
Form Builder: From initial inquiry to contact and onboarding information, Dubsado's form builder allows you to create custom forms for whatever part of your process you need them for.
Form Templates: Dubsado's collection of form templates allows you to avoid starting from scratch when building forms and instead work off pre-created templates you can customize to your business.
Where it has limitations:
Portal functionality: While clients can complete forms and make payments in Dubsado client portals, the functionality beyond those aspects is limited.
Integrations: Dubsado client portals do not provide the ability to embed 3rd apps for clients to access directly within their portals.
Client Tasks: Using Dubsado, you can assign tasks to yourself or team members, but you cannot assign tasks (or lists of tasks) for clients to complete in their portals.
Automated Reminders: To create automated reminder sequences in Dubsados, you need to write out each email you want to send and manually add them to the specific workflows you create.
Dubsado pricing:
Starter – $20/month
Premier – $40/month
Ready to see why Motion.io
lives up to the hype?
Assign tasks, share files, and embed your favorite apps in fully customizable & loginless portals that both you and your clients will love.