From a new UI, to an easier login process for your clients, we've had a very productive month at Motion.io for our users. Add in the official launch of our private Beta, and the result?
Clients getting our users the things they need, when they need it. 
Don't want to dig through the text? Here's a visual concisely outlining the new features and their benefit:

| Feature | Benefit |
| --- | --- |
| New Design | Easier to navigate, cleaner interface, less busy, pave the way for customization to better suit your brand design |
| Notification Badges | Stay up to date with project updates, ensuring projects don't get stuck or delayed due to missed updates |
| Magic Links | Improved engagement and easier use for clients |
| My Tasks View | Manage and prioritize tasks, preventing projects from getting stuck or delayed due to missed assignments |
an entirely new design
Our new design is more subtle with colors and allows you to remain better focused on the project you're working on.
The new design changes the layout of the navigation bars, making it easier to navigate and use. The primary project navigation bars are now located on the left sidebar, while the navigation within a project is at the top of each project once you click in. This change makes the interface cleaner and less busy, paving the way for the customization of Motion.io to better suit your brand design.
notification badges
Notification badges help you stay on top of project updates by displaying the number of new activity items since you last logged in.  
magic links
Client engagement is at the heart of Motion.io. Our Magic Links help ensure your client is able to engage more easily on the project and complete their assigned action items.
All @ Mention notifications & daily digest emails now have magic links that auto-authenticate you and your clients. These links take you directly to where you need to be, helping to improve engagement and make it easier for your clients to use Motion.io.
my tasks view
The "My Tasks View" shows all active tasks assigned to you across your various projects, making it easier to manage and prioritize tasks. This feature ensures that you don't miss any important tasks, preventing projects from getting stuck or delayed due to missed assignments.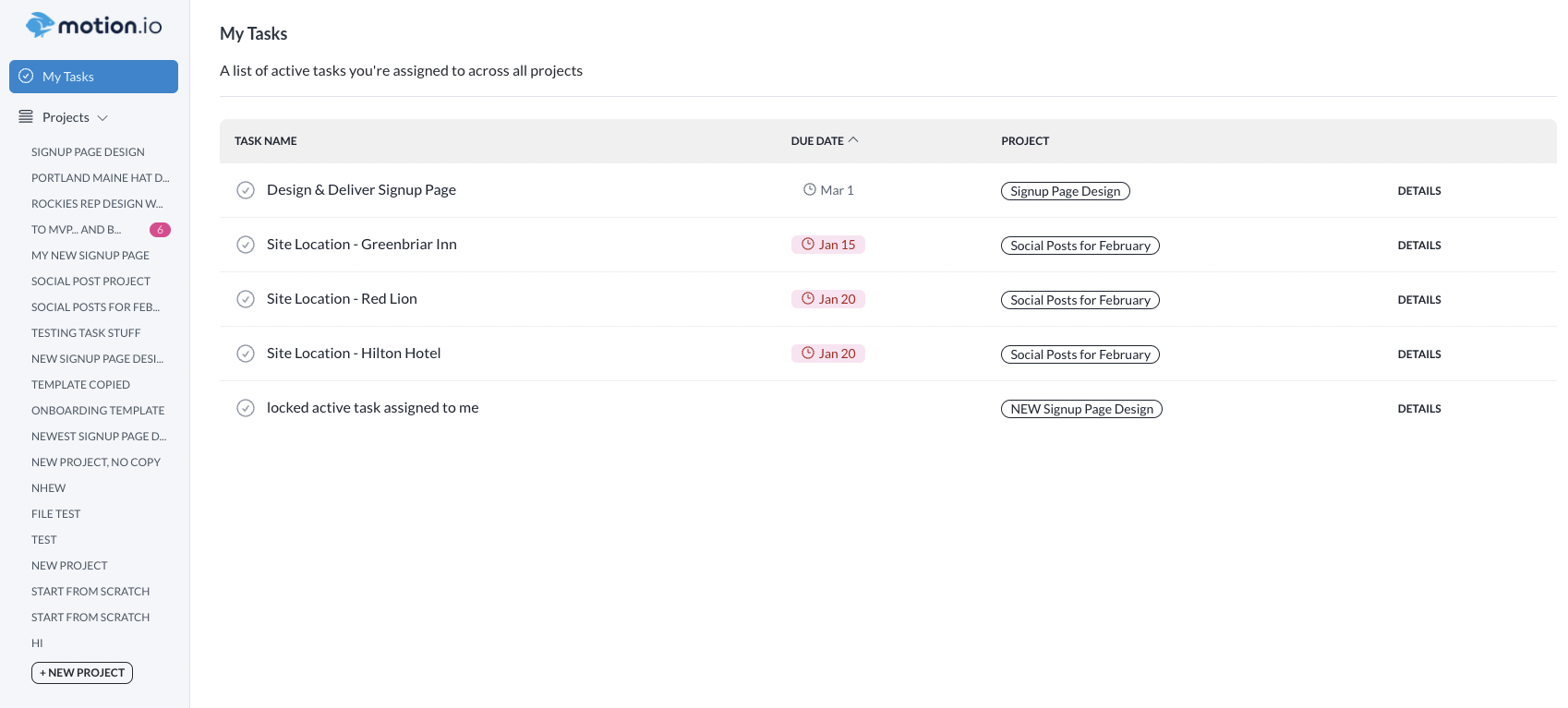 After launching privately last month, we already seeing dozens of client projects move faster. Clients are actively providing businesses like yours with the content they need to push the project forward, without you needing to remind them for every. single. detail.
Are you ready to streamline your business and deliver an exceptional client experience? Then join the private beta of Motion.io by filling out the form below.
Join Motion.io's Private Beta